Premiere Cinemas Gift Cards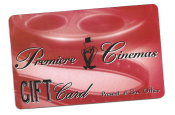 Make Someone Laugh, Cry, or Scream! Give the Gift of Entertainment!
Your friends and loved ones will be thrilled to receive Premiere Cinemas Gift Cards any time of year! Premiere Gift Cards are the perfect gift for any occasion. Premiere's Gift Cards never expire and can be used for any performance including special engagements. Perfect for birthdays, holidays, thank-yous, awards, employee perks and much more.
Can be used at any Premiere Cinemas location (Hollister or Los Banos)
May be used for box office or concession purchases
Gift cards do not expire
To purchase Premiere Cinema Gift Cards, please visit the Premiere Cinemas box offices in Los Banos or Hollister or complete the form below. We will call you back within 24 hours to get your credit card information and complete your purchase. Once your purchase is completed, we will mail out your gifts to the lucky recipient(s)!